Diagnostics & Testing
At our Ajax and Pickering veterinary hospitals, we have access to a variety of diagnostic tools in our in-house laboratory.
Book An Appointment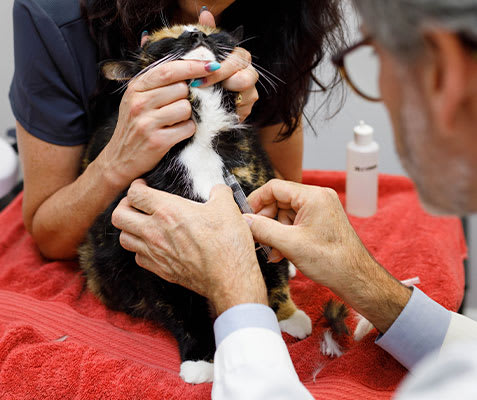 The Importance of Regular Testing
Diagnostic testing is a key component in assessing the body functions of your pet.
It gives us a picture of how their organs are functioning, so we can tailor your pet's health care plan based on their body's needs.
We recommend having your pet's blood tested yearly, as this allows us to create a baseline of how their body is aging, and shows us what their 'normal' is.
Annual testing also provides a reference should your pet ever become sick.
When Are Lab Tests Required?
Testing should be performed when a patient is:
presenting with symptoms of illness
being examined after a trauma
preparing for surgery or a dental procedure with anesthesia
showing changes in weight, behaviour, or a diagnosed condition
at different life stages – juvenile, adult, senior
requires annual blood testing for Lyme Disease
Whites Road Animal Hospital and Highway 2 Veterinary Office also work with Idexx Laboratories for more advanced blood, cytology, fecal and urinalysis testing.
Digital X-Rays & Ultrasounds
We use digital x-rays and ultrasounds to examine your pet's internal structures and identify problems or diseases that are not visible to the naked eye.
While x-rays are used to view bones and more dense internal structures, while ultrasounds are ideal for examining soft tissues, like the organs.