Help Your Pet Put Their Best Paw Forward
At our Pickering animal hospital, we offer professional grooming services for all breeds of cats and dogs.
Book An Appointment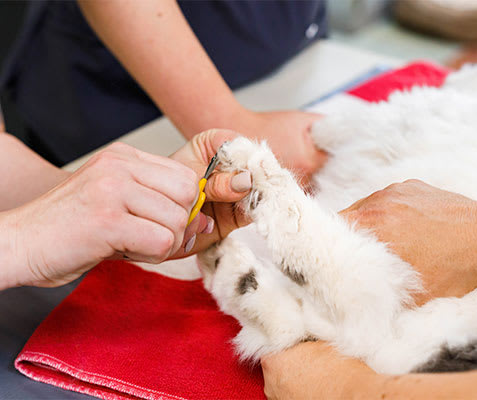 Keeping Your Pet Neat, Clean & Healthy
Professional grooming not only keeps pets looking their best, it also helps keep them clean and their skin and coat healthy.
Plus, it saves you the time and energy required to do it yourself!
From haircuts to shampoos, flea treatments, and nail trims, our grooming services include everything your pet needs to stay clean, healthy and as adorable as ever!
The ideal frequency of grooming depends on the breed, hair length, and type of coat the dog or cat has, but most cats and dogs benefit from monthly grooming.
Could my pet benefit from professional grooming?
Some cat and dog breeds (especially those with long hair that mats easily) may need assistance keeping themselves clean. Animals that are older or have physical disabilities may also benefit from our grooming services.
If your pet struggles with regular grooming, it can be a sign of an underlying health issue. Be sure to mention this when you schedule an appointment. You can also call us anytime to discuss your concerns.
The Benefits of Grooming
During your pet's grooming session, he or she will receive a bath, a haircut, a nail trim, and ear cleaning. We will also check and clean your pet's eyes, paws, and pads.
Besides just making your pet look and smell good, grooming provides health benefits.
Regular brushing helps remove dead hair, mats, and dirt and distributes natural oils throughout the fur, keeping the coat clean and healthy.
Trimming hair around the face, ears, paw pads, and other areas can help prevent infections and irritation and keep debris from accumulating. Trimming nails can prevent joint pain and stiffness.
Managing Fear or Aggression
Cats and dogs don't always understand what is going on when they are being groomed, and this may make them fearful or aggressive.
Our team is used to handling stressed, anxious or aggressive animals.
If your pet is especially fearful or aggressive, we may recommend sedation during the grooming session. Most of the time, however, we can manage the animal with the following steps:
A quiet, peaceful environment
Offering treats
Frequent breaks
Opening a window or playing music
Asking a dog to do something it knows (like 'sit' or 'shake')
At-Home Maintenance
In addition to providing grooming services, we can teach you techniques to help keep your pet well-groomed.
Feel free to ask for a product recommendation or browse our pet-safe shampoos, conditioners, and other grooming products in our reception area.