Dental Care for Pets
Our Ajax and Pickering vets provide comprehensive dental exams and cleanings for cats and dogs to keep our patients' teeth and gums healthy.
Why do pets need oral care?
Just like people, dogs and cats require annual oral examinations to make sure that their mouths are healthy. 
Untreated oral disease allows bacteria in the mouth that causes bad breath. It can also travel through your pet's body to impact organ function, and complicate diseases such as diabetes, kidney, liver and heart disease.
Pets are magicians at hiding pain. Imagine what your mouth would feel like if you didn't brush your teeth and never had your dental cleaning with your dentist.
Our vets provide comprehensive dental health examinations to determine the type of oral health care your pet needs.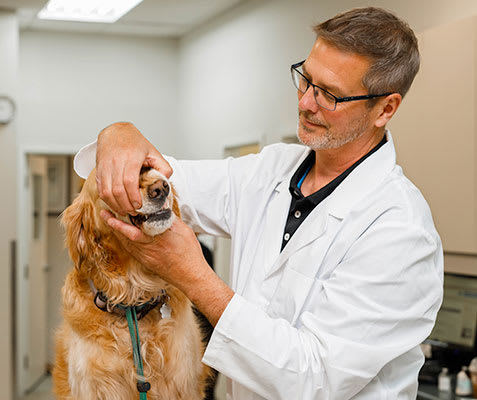 The Examination & Cleaning Process
Dental procedures are completed under a general anesthetic, and not while your animal is awake. With out using a general anesthetic, we would not be able to properly assess and care for your pet's mouth.
The anesthetic allows us to take dental x-rays, which shows us how health the teeth are below the gum line, that we are not able to properly assess if they were awake.
The dental cleaning procedure includes:
full mouth digital dental x-rays to assess the teeth and bone below the gum line
tartar and plaque removal
polishing after cleaning
extractions if your pet's teeth have cavities, fractures or infection
A trained RVT will monitor your pet while they're under anesthetic and perform the cleaning, while the veterinarian will perform any necessary extractions.
Dental Care at Home
Dental home care is an important part of keeping your pet's mouth healthy by reducing inflammation and plaque build up on your pet's teeth. This helps extend the time between potential dental cleanings.
Dental Home Care is highly recommended by all of our doctors. In fact, Dr. Donovan brushes his dog's teeth daily, to help prevent oral health care problems.